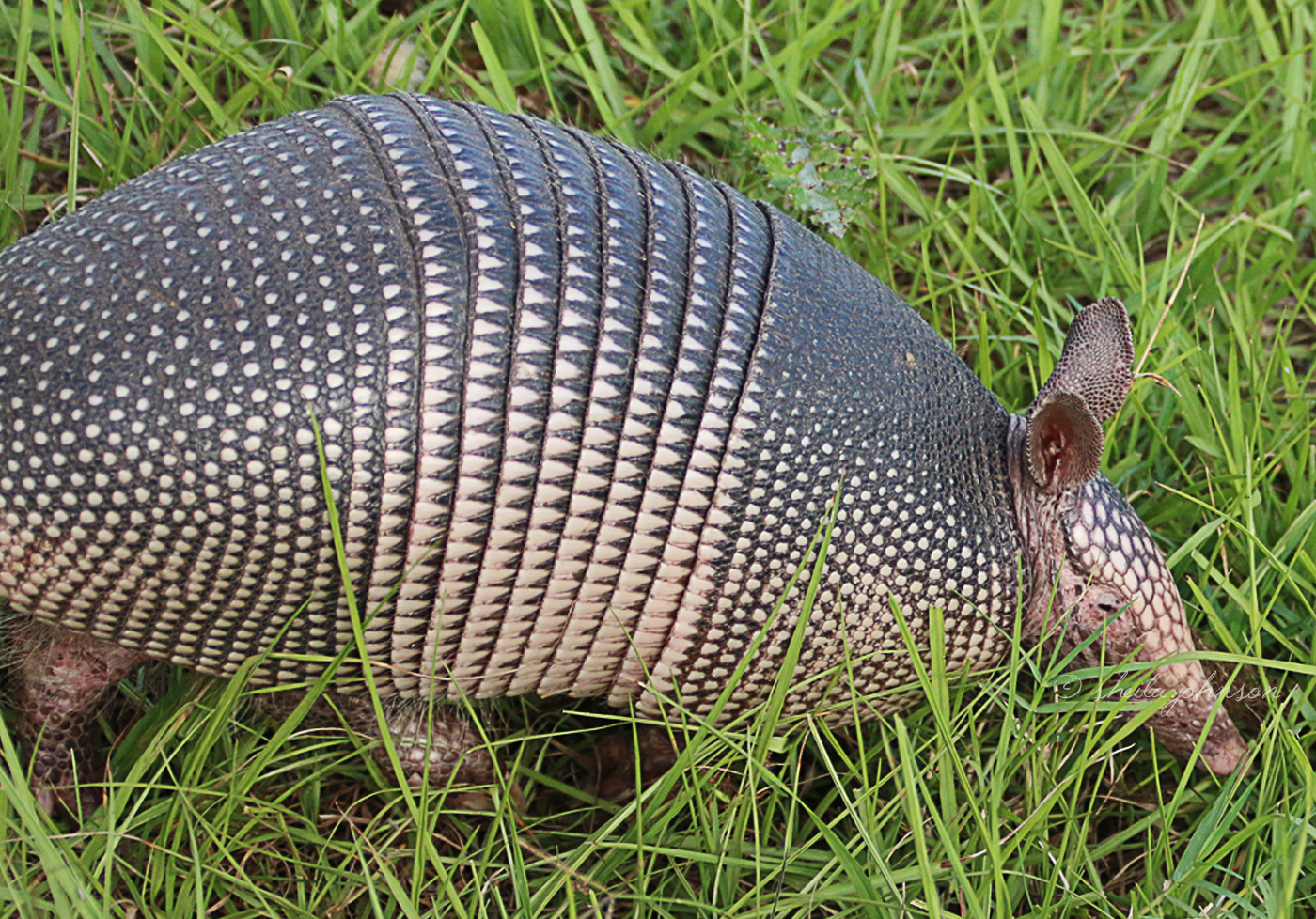 Here we can see why this Armadillo species is dubbed the 9-Banded Armadillo. Though the Armadillo is not native to Florida, it is common.
I never really thought much about Armadillos, except to avoid hitting them in the road and wonder why people complained of them, until I stumbled upon my first one in the wild. Though Jacqueline Kelly is a fiction writer (The Curious World of Calpurnia Tate), I have to agree with her on this point regarding Armadillos when she says:
Anatomically speaking, it resembled the unhappy melding of an anteater (the face), a mule (the ears), and a tortoise (the carapace).
Stumbling upon something new in the wild means I must find out more about them. What was up with minding me no notice whatsoever and then suddenly darting away, as though he'd been poked with a stick? Can he see me? Why did my friends complain about them?
So, today being April 11, we're going to share the 4-11 on 9-Banded Armadillos.
9-Banded Armadillo 101

The 9-Banded Armadillo is native to South America, and, according to Wikipedia, crossed the Rio Grande from Mexico in the late 19th century, and was introduced in Florida at about the same time by humans.
They say 9-Banded Armadillos are about the size of a cat. I'm not sure whose cat they were comparing, when 'they' make the comparison. The few I've seen are definitely smaller than our cats (though, admittedly, one is named Big Kitty. So. You know . . .). You get the idea though. They're not too big; not too small — around 10 or 15 pounds is pretty typical for an adult (Armadillo; not cat).
This species, which is the most likely to be seen at dusk on a warm Florida evening, is all about function over form. Though not anything at all like the big bad wolf, the phrase which comes to mind immediately is, "My what [big | small | strange] [nose | teeth | shape] you have . . .":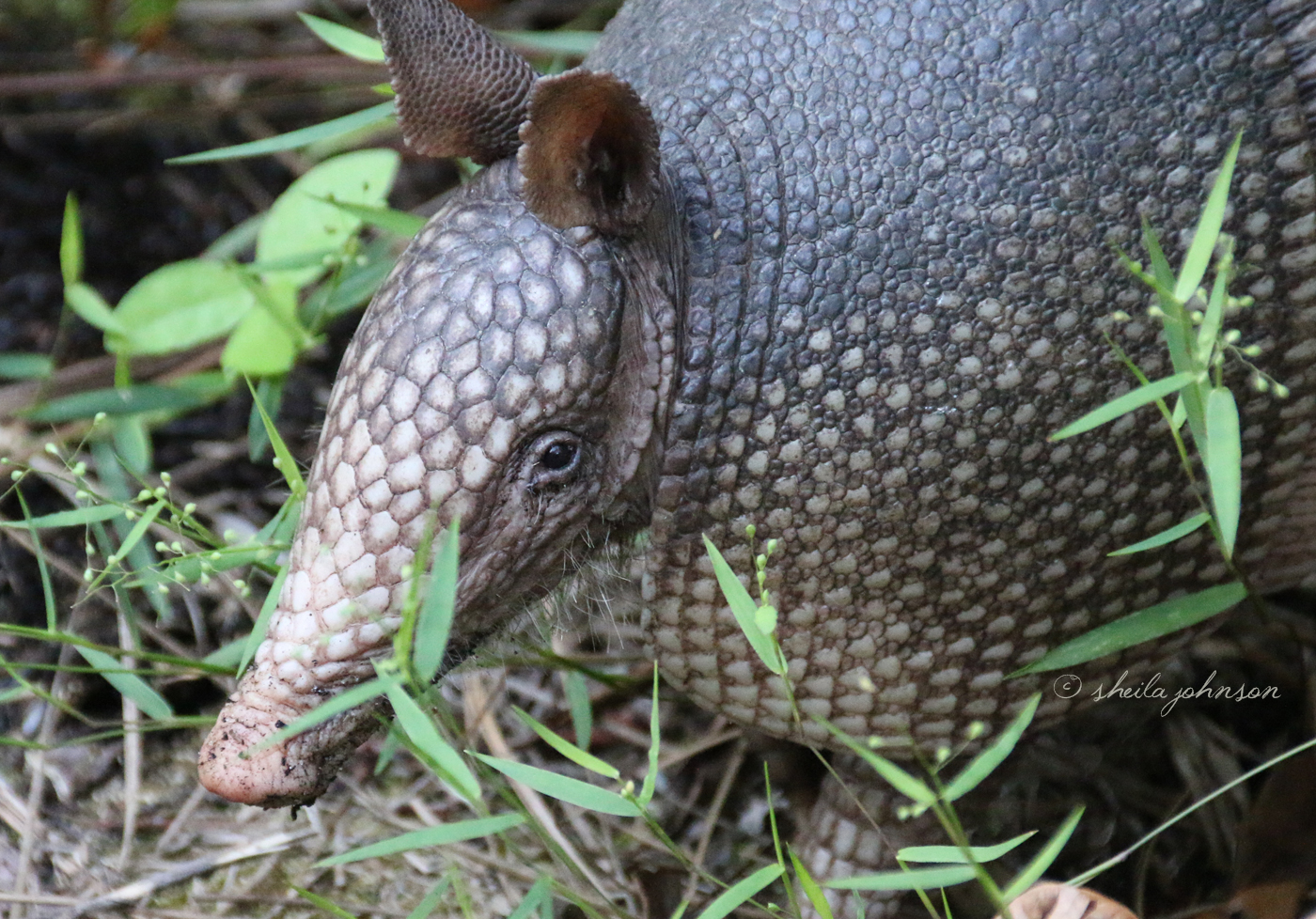 The 9-Banded Armadillo depends on its sense of smell to get around, sense danger, and forage for food, as it has horrible eyesight. Its eyesight is so bad, in fact, that if you are very, very quiet — and don't smell much — you can get as close as a few feet away, and they'll never know!
Armadillo Snout: If the 9-Banded Armadillo could speak, it would tell you it's unwieldy snout serves two purposes: It's used to sniff for dinner, detecting worms, insects, and other food stuff up to about 8 inches underground, and also quite good at detecting nearby danger. We often see them pause during feeding to smell the air for exactly this purpose.
Armadillo Tongue: It's long, skinny tongue is not only good at reaching for dinner, but it's sticky. It's like having fly paper you can control. In your mouth.
Armadillo Claws: If the snout-and-tongue method of foraging aren't filling an Armadillo's stomach, then they have sharp claws to dig further down. These claws are also useful for digging the burrows which they call 'home sweet home.'
Armadillo Ears: I've seen contradicting reports of whether or not Armadillos have good hearing, though all agree their hearing is much better than their eyesight. My personal experience is that their hearing is pretty darned good. When shooting them (click; not boom), we notice that the slightest noise sends them prancing away. I switch my camera to quiet mode, when an Armadillo is in view.
Armadillo Teeth: It doesn't require big, gnarly teeth because it's an insectivore, and nature is lazy, in this way — it doesn't give us more than we need to survive — so its peg-like teeth aren't even covered in enamel and they have no special "meat-eating teeth," as most mammals do.
Armadillo Eyes: Since their senses of smell and hearing are well honed, their food is always at the tip of their tongue, and their best defense is a hard carapace which protects them from predator claws, Mother Nature apparently decided they didn't need fabulous eyes "the better to see you with, my dear." I've seen an Armadillo look right at me and appear to not see me. This is when we stand as quietly as possible and hope that we're still upwind!
Armadillo Armor: As expected, the hard carapace of the Armadillo is protection against predators, such as cougars, bears, alligators, and such. While it is another species of Armadillo (the 3-Banded Armadillo) known for curling itself into a ball, its carapace does protect its somewhat fleshy (and tasty) underside, and, especially inside of a burrow or quickly dug trench, predators are more likely to get bored before they get fed.
Armadillo Legs: Its ability to "defend" against predators by way of its crunchy outer shell might explain why it has no need of long legs for running, but, truth be known, we've seen these little creatures run pretty fast! We once saw a black flash ran past so fast (while stalking a Woodpecker nest) that we were unable to identify it (this, in broad daylight). We later realized that it was, in fact, an Armadillo who'd chosen a nearby bush as a go-to hiding place.
But what was it I found most interesting about the Armadillo? Read Armadillos, Part 2 to find out.
Motivational Quotes Inspired by Nature